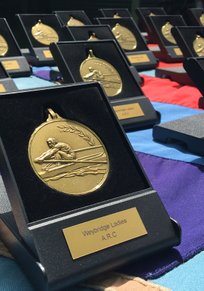 The WLARC Regatta is a key event in the local rowing calendar. We attract competitive entries from rowing clubs in Weybridge, Walton, Moseley, Guildford, Richmond, Kingston, Henley and many others.
Held on the banks of the Thames it is a great spectacle for supporters of the entrants as well as general public strolling along the river.
A great day out, races are run throughout the day with a variety of categories to enter. The Regatta is a very well respected and renowned event, a great activity to be associated with.
We would be delighted to discuss sponsorship opportunities with local companies.
Sponsorship can provide:
Advertising space in our programme
Banner advertising on this website
Sponsorship/naming of a race
Sponsorship/naming of a boat
Banner advertising at our clubhouse
Reference in the various publications where we get exposure
Fundamentally, it's a great day where a lot of people will be watching some superb racing, and for sponsors it provides some great opportunities for promoting business. Get involved!
If you want to learn more about Sponsorship please visit the Sponsorship & Funding page.
If you would be interested in receiving details about our Regatta sponsorship package please contact us via email.