Risk Management
WLARC is committed to keeping members safe when on the water and during land-based training activities. We endeavour to meet this commitment by following 'Row Safe: A Guide to Good Practice in Rowing and having a clearly communicated policy that is understood by all members.
This document will make you aware of the risks you need to consider and the rules in place to reduce them, but safe boating starts with you. By signing your membership form you have accepted your personal responsibility to abide by these rules in order to stay safe.
All club members have individual responsibility for their own well-being and that of fellow club members

The Club Rowing Safety Advisor (CRSA), along with the Captain and Coaches, has a duty of care for all members and their advice should be heeded

By following the advice and asking yourself if you are safe to boat, you will help us keep WLARC a safe rowing club.

All club members have a responsibility to report any accidents, incidents or near misses immediately. Please see the section below on incident reporting to ensure you do so in the appropriate manner.
The factors effecting safe rowing are grouped into four sections:
Health – Am I fit to boat? What do I do in the event of an incident?

Skills – Do I have the necessary skills and capability to have a safe outing?

Risk assessment and navigation – Are the current conditions safe for my crew to boat? Do I know the navigation rules?

Equipment –
1.Health
Before boating consider:
Am I / is my crew feeling well? Are there any injuries to consider?

Am I /is my crew wearing appropriate kit for the conditions?
First Aid:
Coaches to be first aid trained and a list of first-aid trained members to be recorded and up-to-date.

First aid kit maintained and membership aware of its location in the boathouse (cupboard under bench currently, stocks for replenishing upstairs).

First aid kit to be carried on safety/coaching launches.

Emergency contact numbers prominently displayed in boathouse.
Cold water immersion and hypothermia:
If a capsize occurs it is vital you get out of the water as soon as possible.

Adopt the one degree to one minute rule when assessing your course of action. If you feel able, re-right your boat and get back in to row and return to the club immediately. If this is not possible, or you cannot do so immediately, follow the points below:

Stay with the boat, get on top of the boat and attract attention immediately

Keep arms and knees tucked into the body if you have to remain in the water

Stay calm and breathe deeply

Do not waste energy trying to right the boat

Do not swim away from the boat as your swimming ability in cold water is dramatically reduced

Know the emergency procedure to be able to help effectively if you see a capsize
Emergency Telephone Numbers:
Incidents and Equipment Damage:
All rowing incidents are to be reported immediately to the CRSA and on the British Rowing website within 24 hours (ideally by the CRSA).

http://incidentreporting.britishrowing.org/ (click on 'Submit New Incident Report). A copy will automatically be sent to the CRSA.
All other non-rowing incidents involving injury or damage should be reported to the CRSA.
2. Skills
Before boating:
The boat selection: determine it in conjunction with the authorised personal completing the conditions risk assessment, as well as the level of experience and confidence of the crew.

Is each crew and boat documented in the diary and on the white board? Remember to remove names from the white board on return.
Steering and navigation:
Swimming and capsize training:
Swim 50 metres in their kit

Swim five metres underwater

Tread water for two minutes.
All members must attend a biennial swim test and capsize drill as part of their routine training and records of satisfactory completion must be maintained by the CRSA

Any members not able to complete this training and demonstrate their swimming ability may be prevented from rowing.
3. Risk Assessment and Navigation
Risk Assessment Guidelines (Boating):
It is the responsibility of anyone boating unsupervised or anyone supervising crews to perform a risk assessment. The forms and procedure to go through can be located on the bench by the white board.
A Risk Assessment must be carried out prior to every outing or at 2 hour intervals if staggered outings are occurring. This must be based on: river state, experience and strength of those boating, type of boat, strength and direction of the wind, temperature of the air and water, weather (including likelihood of lightning) and visibility. If there is any doubt about the wisdom of boating - DON'T.
Guidelines on boating are to be used by everyone boating from WLARC. The Club uses the EA River State coloured warning boards, the level of the river at the landing stage, as described below, and other weather information (e.g. fog or lightning) to determine the Rowing State.
Boating in darkness:
Rowing or sculling in the dark or in poor visibility is dangerous and is not to be encouraged.

If crews wish to boat in darkness they MUST adhere to the following safety requirements:
They must have lights fixed on the boat prior to leaving the landing stage. Lights must be fixed to the bow and stern of the boat using velcro or an attachment designed for the purpose, and NEVER to the person or riggers as they may be obscured when bending or turning. Lights must be white and visible from 360m i.e. 180m at bow and 180m at stern as required by COLREG (Rule 25). The light must be a continuous light (not flashing), Halogen/Krypton and ordinary bike lights, which comply with BS 6102 are recommended. It is the responsibility of the individual members/crew to provide the appropriate lights to comply with the required standard and to ensure they are sufficiently charged for the entire outing. Should a light fail, then the remaining light should be mounted on the bows of the boat and you should return to the club house immediately. Rechargeable cells should only be used with care as they are liable to expire without warning. They should be completely discharged and recharged before each outing.

High visibility clothing must be worn by the bow crew member.

All crews boating in darkness without a cox, MUST be accompanied by either a launch fitted with the required lights or a club member on the bank with a bicycle, lights and throw line bag.

You/Your crew MUST inform the captain, a coach and the CRSA prior to boating so light checks can be carried out. The coach, captain or safety advisor will the final say to boating under these conditions following the conditions risk assessment and experience of the club members.
Thunder and lightning:
NO ROWING until 20 minutes clear of storm conditions. If lightning is seen during an outing and thunder is a count of 10 seconds away or less, return to the club or nearest landing stage immediately and seek shelter off the water. Do not return to the outing until 20 minutes clear.
Steering and navigation:
All members should be familiar with the layout of our stretch of water (navigation diagram available in the boathouse). The following rules will help to prevent accidents:
Boats from all clubs are to exercise caution at all times and take appropriate measures to avoid collisions.

Boats steer on the right on the river, i.e. stay on the Surrey side going downstream and the Middlesex side coming upstream, such that boats pass stroke-side to stroke-side.

Other river users are to be treated with consideration. It is suggested that at least 1.5 metres is left between blade ends and the bank or moored craft to allow canoeists to pass through if necessary.

Always boat and land upstream.

If a crew is on a collision course with you or another boat, SHOUT: "LOOK AHEAD" or "LOOK AHEAD SCULL / DOUBLE" (as appropriate).

If you stop your boat, other rowers or river users may have to take action to avoid you. Stop only when it is safe to do so.
No crew has the right to overtake. Only overtake when you are sure it is safe. Crews overtaking should move towards the centre of the river having first checked that the intended course is clear; those being overtaken should keep well in to the bank and warn the overtaking steersman of their presence if appropriate.
The numbered items below correspond to points on the river map:
D'Oyle Carte Island to be one way traffic, i.e. all rowing boats to pass the island on the Surrey side going downstream, Middlesex side going upstream. Be aware that other river traffic may not follow this rule.

The old river loop around Desborough Island may be navigated in both directions but some clubs have chosen to use the old river only when going upstream. Corners must not be cut and normal navigation rules should be followed to allow for other craft.

It has become regular practice for crews to rest below D'Oyle Carte Island and turn into the stream towards the Canoe Club before going downstream. It should be noted that safer places are against the Middlesex bank opposite D'Oyle Carte or just below Shepperton Lock. Crews choosing to rest opposite the Canoe Club and then turn into the stream on the Surrey side should do so with extreme caution: this could be dangerous as craft may be going downstream on the Surrey side of D'Oyle Carte Island.

Boats must not stop in the Desborough Channel in either direction if there are boats approaching from behind. All boats should proceed in single file except when overtaking. Any stopping should only be done under instruction from a coach on the bank.

Boats must not turn immediately below the bottom of Desborough Channel to return upstream. Turns should be made, if required, well below the channel below the public slip at the earliest.

Boats must not turn immediately upstream or downstream of any bridge.

On the Walton reach from Cowey Sale to Sunbury Weir boats must keep to the right of centre at all times and avoid the tendency to go down the middle.

Boats must not cut the corner when going downstream at the Sea Cadet Unit "Black Swan" bend or when proceeding upstream through Walton bridge.

Boats returning to St. George's College BC or Walton RC will continue past the clubs and turn at least 100 metres below the clubs, turning to the Middlesex side. They will then return upstream and "easy" before moving across to the clubs after checking it is safe to do so. Similarly, boats leaving either St. George's College BC or Walton RC will proceed upstream by crossing immediately to the Middlesex side, taking cafeful note of any boats coming downstream before doing so.

If boats want to go downstream from St. George's College BC or Walton RC they should ensure there are no boats coming downstream before turning.

WLARC's boats shall use the stretch of water downstream from Shepperton Weir to the Canoe Club as a light paddling or warm up area only.

When boating from WLARC landed stage do so upstream and turn at the mouth of the Wey Navigation to go downstream, approaching the weir with caution. WLARC boats when returning to the club line up adjacent to the Yacht Club on the Middlesex side and move across to the steps at a 45 degree angle when it is safe to do so. Give way to boats crossing the weir pool going downstream.

Thames Valley Skiff Club boat from their clubhouse between "The Anglers" and Walton RC. Boats should be cautious when approaching this area as skiffs are launched and recovered at right angles to the bank. Crews should also approach with caution in conditions of slack stream and/or easterly winds as skiffs tend to swing out and remain perpendicular to the bank.

During strong stream conditions, crews must not proceed into the Sunbury Lock Cut but must turn well upstream of the EA barges. Sunbury Lock Cut is not to be used for training purposes during lock operating hours (normally 0900-1700) or at any time during weekends. At other times, steersmen should keep well over to the Surrey bank going downstream and be prepared to stop to let upstream boats pass; they must allow upstream boats abreast of the weir to exit the Lock Cut before entering. Boats going upstream should check that the river is clear before they exit the Lock Cut so that they can use the middle of the river to avoid getting too close to the weir.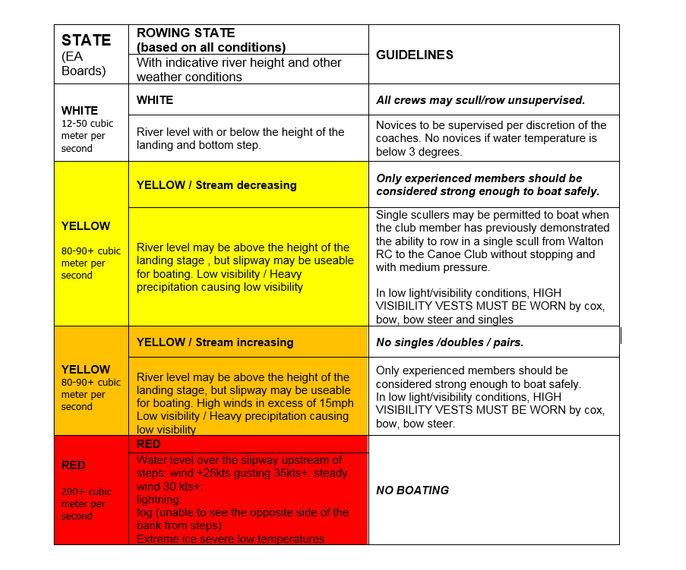 4. Equipment
All equipment, boats and blades must be checked before and after each outing for damage. Any damage found and not dealt with immediately must be recorded in the equipment book, an email with details sent to the equipment crew and the boat removed from use until repaired and fit for use again.
Boats and Blades:
All boats to be checked both prior to and after every outing:
Bow ball – secure

Heel ties – effective level

Hatch covers –secure

Runners – correctly positioned and screws present

Seat – properly engaged

Footplate – secure and all screws present

Riggers – top and bottom nuts

Rudder (if any) functional

Fin straight

Hull damage
Training in equipment set-up and maintenance to be carried out with all members annually and recorded.
Safety Aids:
All safety equipment to be stored in the boathouse and be readily accessible at all times. Written procedures for the use of safety aids and instructions can be found in the equipment cupboard. This must be read and understood prior to any member using a safety aid.
Life jackets:
To be worn by all coxes.

To be worn by all launch drivers and passengers.

Must carry the national EN (European Standard) number and carry the CE mark of approval.

Must be checked annually by the CRSA to ensure webbing, stitching, buckles and zips are in good working order, cylinders are free from corrosion and screwed up tightly, any automatic inflation cartridges have not been fired, inflation bladder is free from leaks (inflate using hand pump for 24 hours and check pressure is maintained) and recorded in the maintenance log.

To be checked for wear and tear before each use.

To be properly adjusted to fit the individual.
Throw lines:
To be carried at all times by coaches on the bank.

To be carried at all times on safety/coaching launch.

All members to be trained in effective use and stowing of throw lines.

Training and practice in use of throw lines must be carried out and recorded.
Safety bag:
To be carried at all times on safety/coaching launch.

To contain first aid kit, thermal blankets and a knife.
Safety and Coaching Launches:
To be available for use at discretion of the Club Rowing Safety Advisor, Captain and Coaches

To be crewed by trained personnel.

All crew to wear a life jacket

Launch driver MUST use the kill cord correctly at all times
Monitoring:
Incident Reporting (all instances of capsize/collision/swamping). All incidents to be reported to CRSA.
Name, date and time

Nature and cause of incident

Boat involved

Other club / craft involved

Injury if any

Damage if any
These data are then passed to British Rowing for monitoring purposes here.
Safety Auditing:
Safety Audit to be completed annually by CRSA and submitted

Any actions arising to be completed in a timely manner
British Rowing Wafer Safety Audit Report for WLARC: