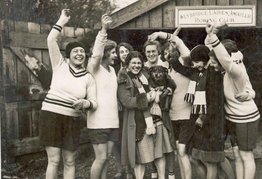 We are a small, but enthusiastic and determined rowing club, situated in the heart of the local Weybridge community. We are open to new membership from girls and women across Weybridge and the surrounding areas, who are looking for a fun, social and supportive rowing environment. For the committed, WLARC is also a fiercely competitive club.
As an independent club our funding comes from membership fees, money we can raise through our annual regatta and other fund-raising efforts, grants, donations and sponsorship. We run a professional club in premises kitted out to a good spec, with the latest equipment - all of which needs investment. Our coaches donate their time on a voluntary basis, which is fantastic, but we have to pay to keep their training knowledge and qualifications up-to-date.
Our members contribute their time when our premises need maintaining, equipment needs repairing and in the orderly running of the club. It is a huge commitment for those involved, but the rewards are great. We do it because we love to support new members in developing new skills, and provide existing members with the support to meet their personal rowing goals.
If you would be interested in supporting us and helping to keep our club afloat, we'd love to hear from you. There are numerous opportunities to get involved, support funding or provide sponsorship: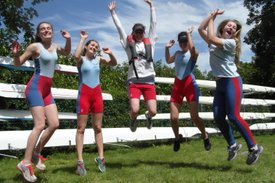 Time and skills donations
One-off financial donations
Annual sponsorship of one or some of our boats
Lifelong sponsorship of one or some of our boats
Regatta sponsors package (see more details below)
Sponsorship is a great way to support the club, and at the same time get some great brand awareness for your business. Boat sponsorship provides opportunities to:
display your logo on the side of our boats
advertise on our website
advertise in our quarterly newsletter
access our membership to promote your business
We receive great exposure in the rowing and local press. For further details about funding and sponsorship opportunities please contact us via email.
WLARC Regatta Sponsors
The WLARC Regatta is a key event in the local rowing calendar. We attract competitive entries from rowing clubs in Weybridge, Walton, Moseley, Guildford, Richmond, Kingston, Henley and many others. Held on the banks of the Thames it is a great spectacle for supporters of the entrants as well as general public strolling along the river. A great day out, races run throughout the day with a variety of categories to enter. The Regatta is a very well respected and renowned event, a great activity to be associated with. If you would be interested in receiving details about our Regatta sponsorship package please contact us via email.
For more information about WLARC regatta please visit our Regatta page.