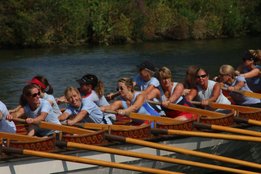 At WLARC we are an inclusive club and have members of all ages engaged in recreational rowing. There is no pressure to join a race crew if you can't commit the time. We have many members who row with us to stay fit and flexible, who experience the mental and physical benefits of being outdoors and on the water enjoying the company of friendly, like-minded women.
Recreational rowers at WLARC benefit from rowing in the same fine boats that are used by all club members. This is not common, and other clubs use more stable 'touring' boats which are suitable for long distance and leisure rowing. We are able to row long distances in the fine boats, and if overnight stays are involved a land based support crew would accompany the trip.
We have weekend sessions for recreational rowers on both Saturday and Sunday. These are fitness and technique sessions and although we like to have fun, we take our rowing seriously and are not afraid to break into a sweat and get our heart rate up on these outings.
In the summer months there are also midweek evening sessions and coaching is also available (see Coaching).
We do take occasional rows through the local locks to venture further afield. Molesey and Kingston, Staines and Wraysbury can be reached in a day out with a stop for a leisurely lunch.
We have also taken part in annual long distance events such as the Great River Race on the Tidal Thames (we borrow fixed seat boats), the Head of the Dart race in Devon, the Vogalonga in Venice and the 'Coupe des Dames' in France. It is great fun to take a crew to different venues and take part in these long distance events. The fitness and stamina that is required is built during the regular weekly sessions. Our recreational rowers still challenge themselves, and see some great places.